____________________________________________________________________________________________
THE PLENARY MEETING OF CTIF-SEE -
11-12 September 2014
The Plenary Meeting of CTIF-SEE was held in Bucharest, Romania, 11-12 September 2014, in the campus of the University POLITEHNICA of Bucharest. This meeting had two scientific sessions: "ICT in Horizon 2020 framework" (Networking and Brainstorming Session) and "ICT - the connecting path of Danube and Balkan regions to the entire Europe". The first session was dedicated to exchanging ideas and views for future projects and collaborations as well as brainstorming discussions. During this session Prof. Radusinovic presented current research topics of CFTMN related to Leveraging Smart Objects with Software Defined Networking. The letter session was dedicated to young researchers of CTIF-SEE members and invited collaborators (PhD students or PostDoc researchers).
____________________________________________________________________________________________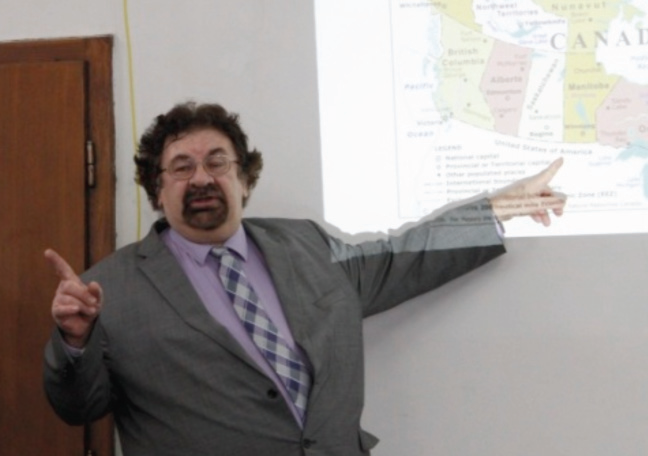 Prof. Beaulieu gave a lecture in Podgorica, Montenegro, on 10 March, 2014. The lecture in Podgorica was organized by the Faculty of Electrical Engineering and its Centre for Telecommunications. Prof. Beaulieu gave his lecture and explained his main research activities. All members of the Centre for Telecommunications as well as other faculty staff attended the lecture. Also, undergraduate, master's and some Ph.D. students were present. The lecture was very interactive with interesting debate and participants' questions. Some of the Ph.D. students used this opportunity to discuss with Prof. Beaulieu issues related to their particular research topics in the area of wireless communications.


____________________________________________________________________________________________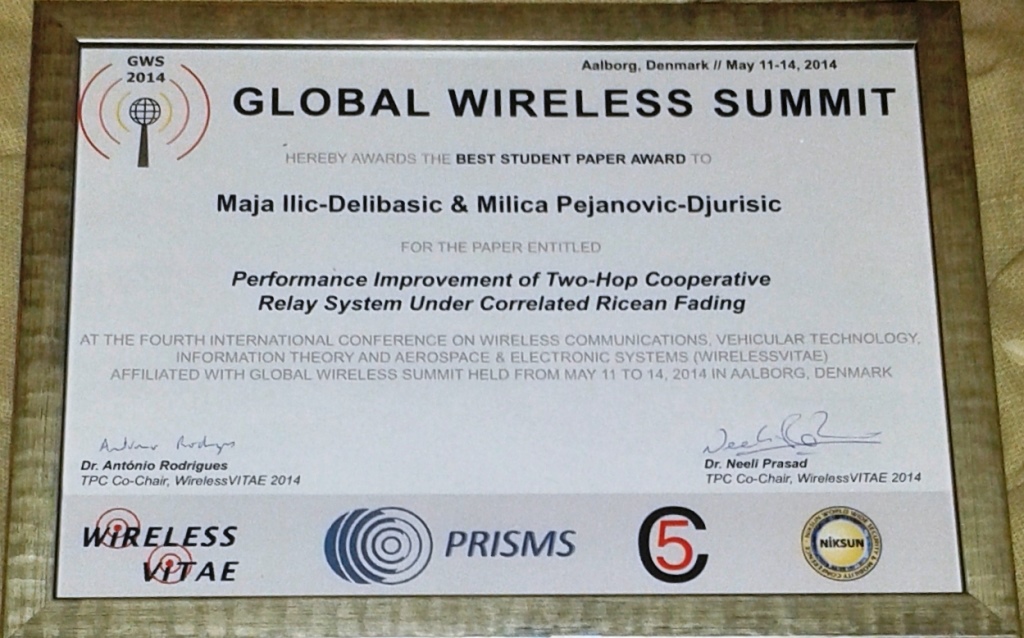 Paper entitled "Performance Improvement of Two-Hop Cooperative Relay System Under Correlated Ricean Fading", authors Maja Ilic-Delibasic and Milica Pejanovic-Djurisic, was awarded with "Best Student Paper Award" at the WVITAE conference, held within the Global Wireless Summit 2014 event, in Aalborg, Denmark, May 11-14, 2014 (www.gws2014.org).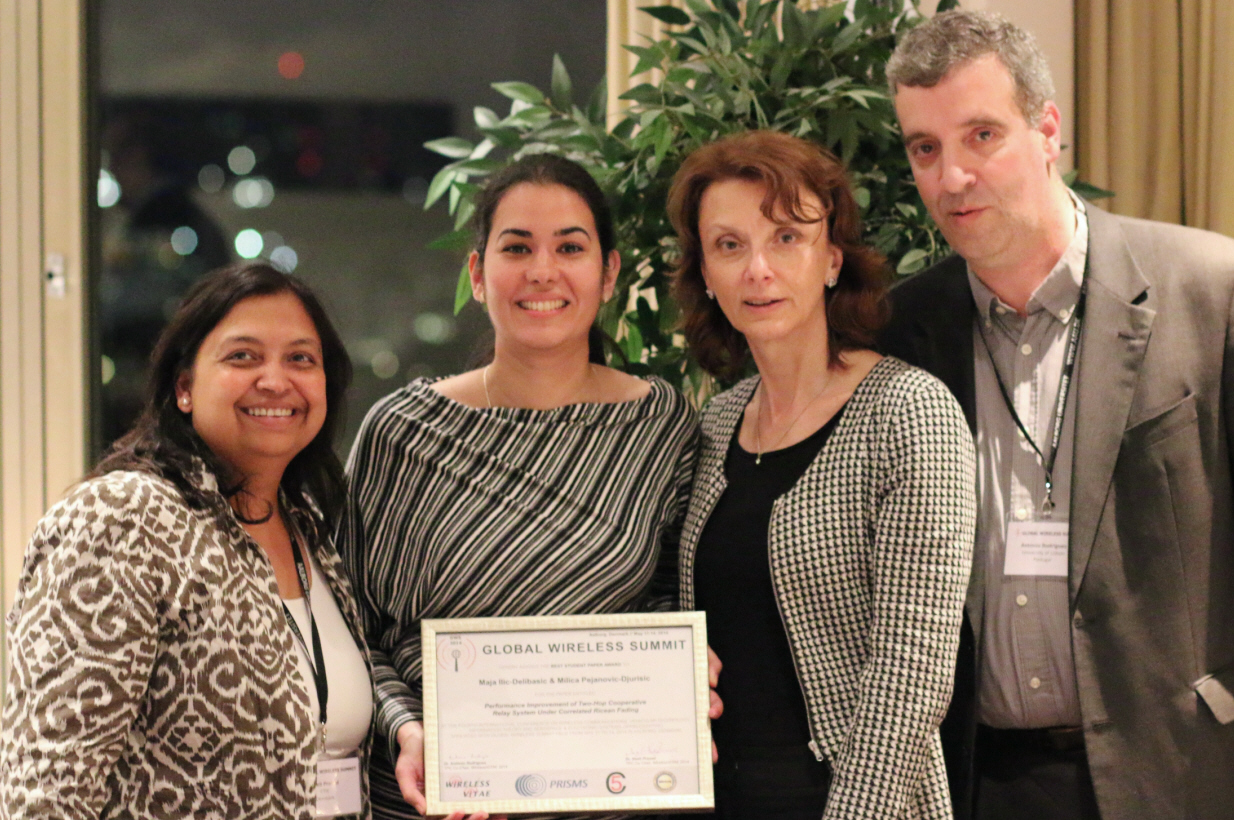 GWS 2014 joined four global and prominent conferences - Wireless VITAE, PRISMS, WWSMC and IC5, for one mega event. A part of GWS-2014 was Wireless VITAE conference that is the only international conference broadly addressing the wireless developments in the world by merging the communities from four different IEEE societies (Vehicular Technology, Information Theory, Aerospace and Electronics systems, and Communications).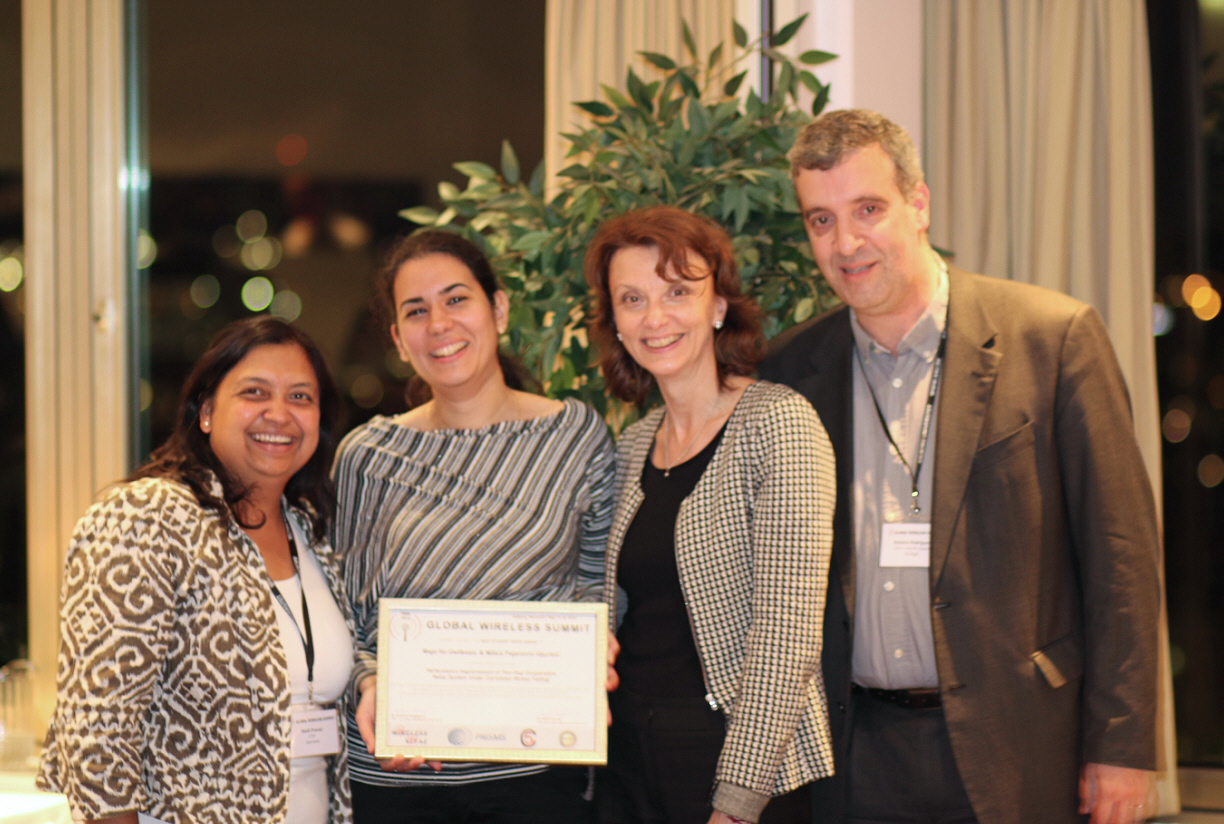 The main topics of the conference are trends, challenges and future roadmaps within a conglomerate of existing and novel wireless technologies, including cellular, short-range, sensor and embedded ones. Cognitive and self-organizing networks, Internet of Things, nano sensors, positioning and localization, recent advances in information theory and its applications, space technology for very high data rates, and techno-economic aspects of telecommunications are part of the scope, among others.


____________________________________________________________________________________________

Prof. dr Norman Beaulieu will hold a lecture on "Generalized models for fading with diffuse scatter plus line-of-sight components" Monday, 10.03.2014, in the "Svecana sala" of technical faculties, at 12:00h.

Dr. Norman Beaulieu is a professor at the Faculty of Electrical Engineering and Computer Science, University of Alberta, Edmonton, Alberta, Canada. He has received numerous prestigious awards for significant contributions to the development Engineering and Applied Science at the international level. Some of these are the IEEE Communications Society 2007 Edwin Howard Armstrong Achievement Award, IEEE Communications Society (ComSoc) Radio Communications Committee 2011 Technical Recognition Award. Prof. Beaulieu was the chief editor of the IEEE Transactions on Communications, and his name is on the list ISIHighlyCited.com authors who are the most cited. He is also a Fellow of IEEE, and distinguished lecturer IEEE Communications Society. Prof. Beaulieu has over 500 publications in refereed international journals and international conference in digital broadband systems, cooperative wireless networks, cognitive radio, simulation and modeling of different types of channels with fading, MIMO systems, ultra wide band wireless systems, as well as interference modeling and techniques for its mitigation. More details can be found here.

____________________________________________________________________________________________


Renewal of the MOY label
- 5, March 2014
Following the evaluation of the college of experts, the General Secretariat of the Mediterranean Office for Youth (MOY) decided on the renewal of the MOY label for the programme: 2010/042 : Wireless Communication Systems. This program of joint PhD research and supervision is organised by the University of Montenegro, Faculty of Electrical Engineering-Center for Telecommunications and University of Zagreb, Faculty of Electrical Engineering and Computing. The MOY label is valid for the period: 2014-2016.



____________________________________________________________________________________________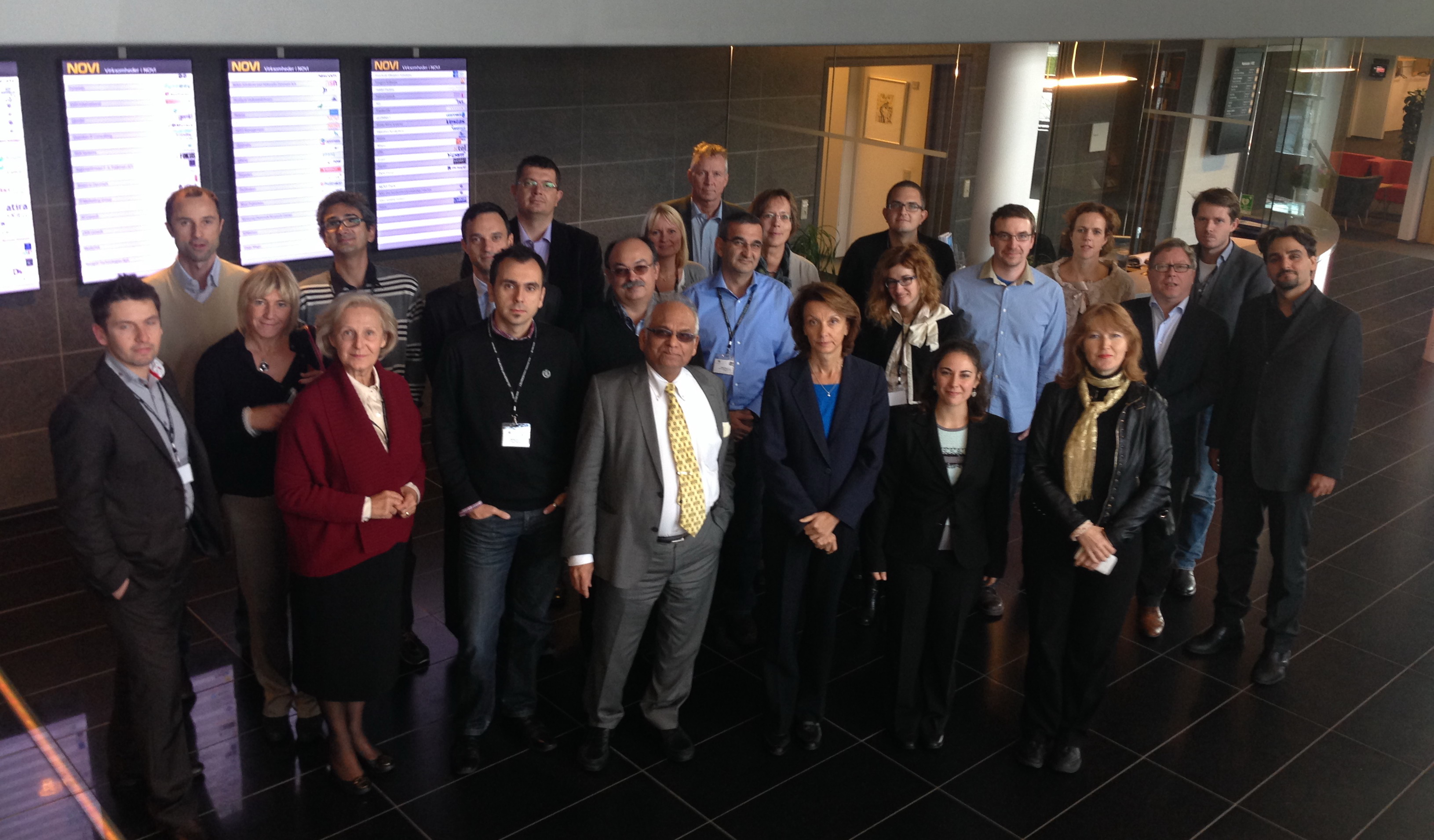 ____________________________________________________________________________________________
____________________________________________________________________________________________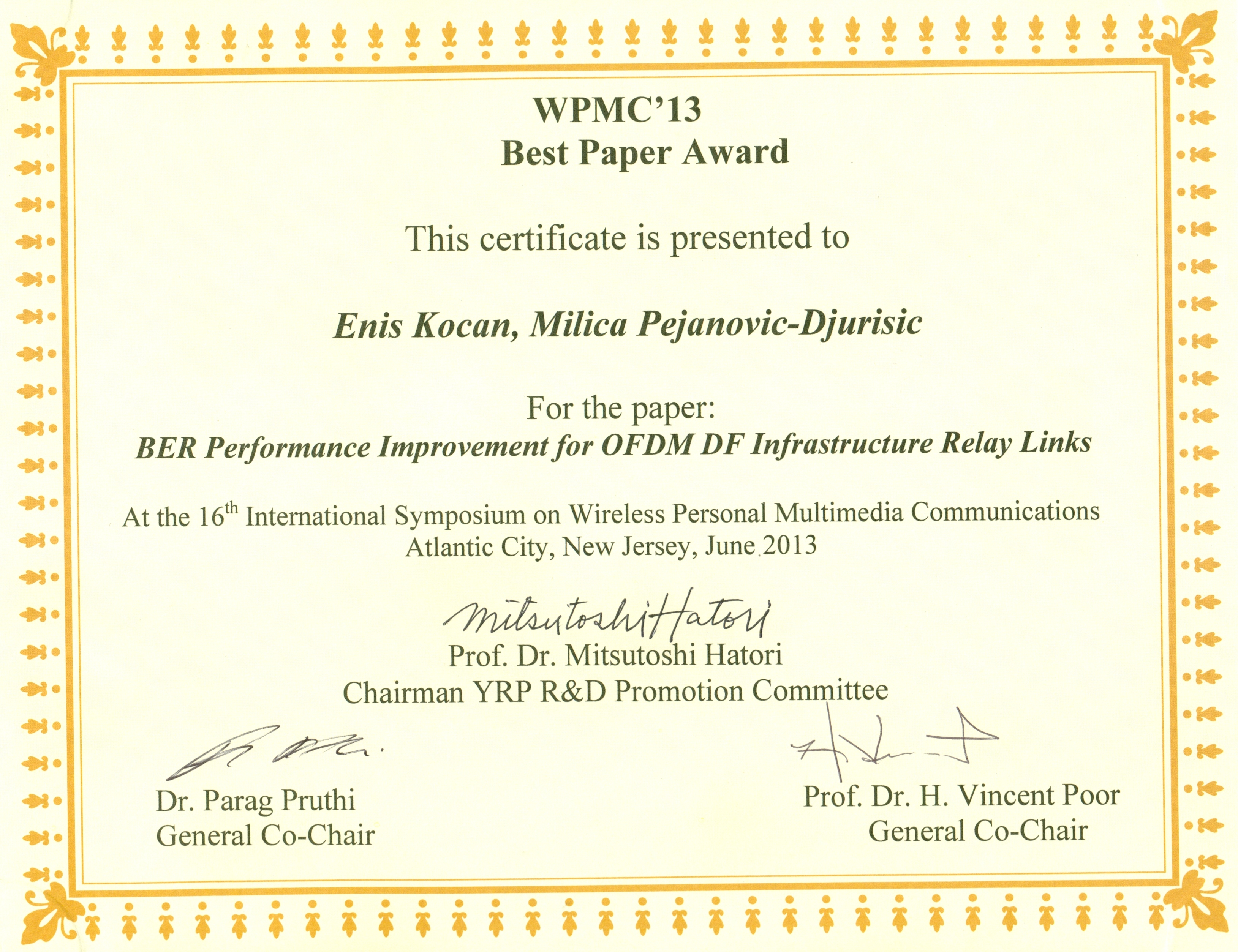 ____________________________________________________________________________________________
____________________________________________________________________________________________
____________________________________________________________________________________________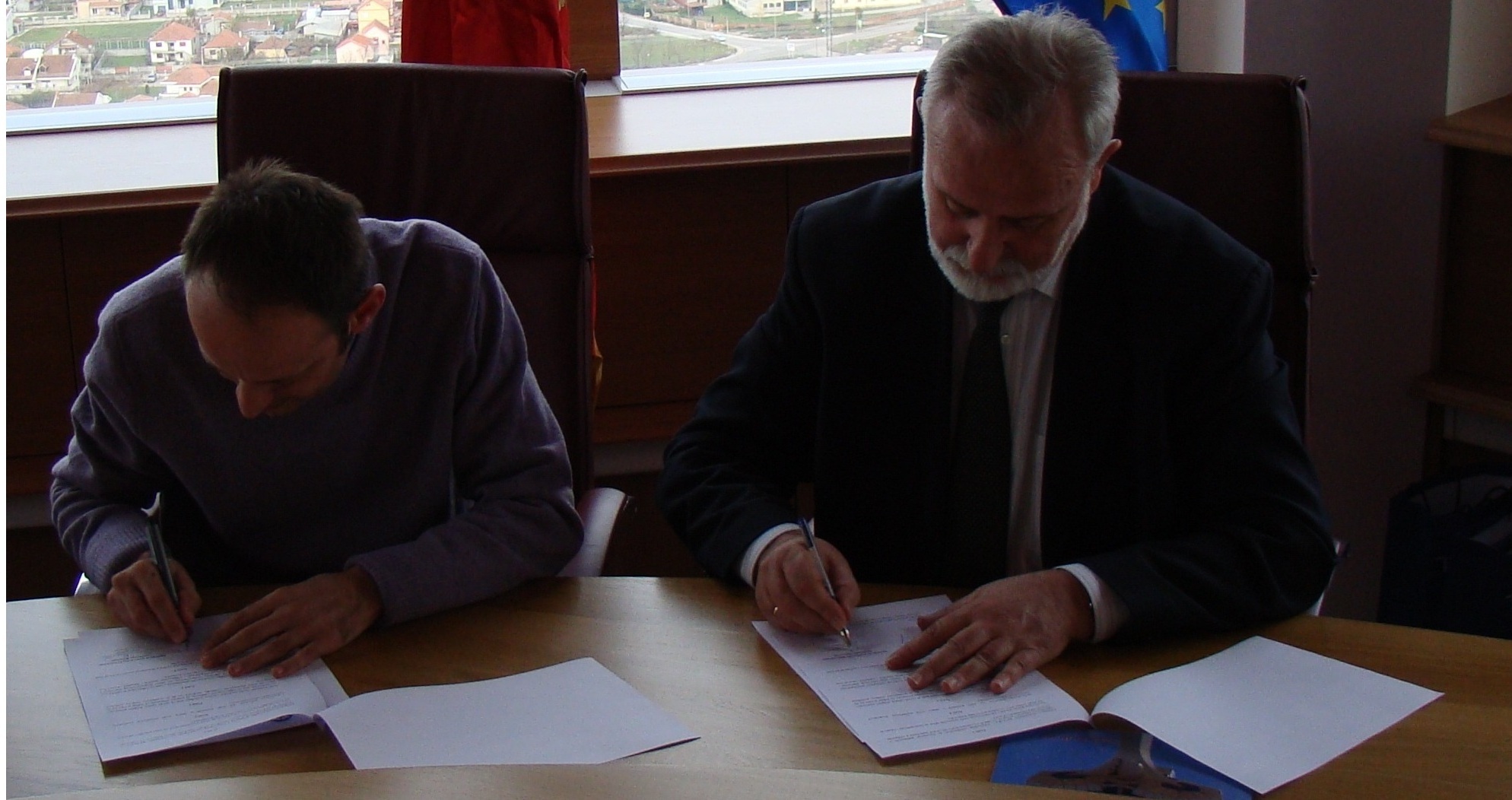 ____________________________________________________________________________________________